Guide Right Program
In the fall of 2004 a partnership was formed with Jefferson Elementary School and the Gary Alumni Chapter of Kappa Alpha Psi Fraternity, Inc. It was at this time the Gary Alumni Chapter of Kappa Alpha Psi Fraternity, Inc. adopted The Gentlemen of Distinction Boy's Organization as its official Guide Right Program.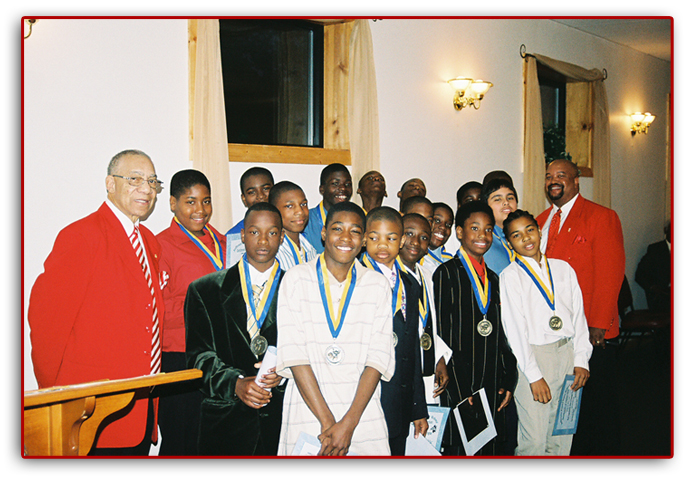 The Gentlemen of Distinction Boy's Organization consists of approximately 40 six grade boys who come from predominately single female headed households and have no father or male figure in their lives. Chapter members meet each Tuesday with the youth and act as mentors for the purpose of enriching their image of themselves and their future as Black men.
The program consists of various components designed to nurture the mind and self esteem of the youth as well as to introduce them to career exploration and non traditional sports.
The classroom sessions provide mentors the opportunity to interact with the boys in small groups and in one on one sessions. The Boy's Club "Rites To Passage" program is used as a model for group discussions. A variety of subjects have been covered including "Respect and Values", "Drugs and Drug Abuse", "Peer Pressure", "Physical Changes at Puberty", and "Relationships and How to Treat Women".
This year's program will introduce the Gentlemen of Distinction to the non-traditional sport of Ice Hockey which will include a field trip to a professional ice hockey game featuring the Chicago Black Hawks.
Other field trips have included exposure to the criminal justice center during a visit to the Lake County Jail "Scared Straight Tour", an overnight lock-in at the Boys and Girls Club, All You Can Eat Pancake Breakfast, High School ROTC Competition and the Highlight of the Year, a 4 day 3 night trip tracing the Underground Railroad during an African American History Tour visiting historical sites from Ohio to Michigan to Canada.
A second component of our Guide Right Program added this year is the result of the Gary Alumni Chapter receiving a $16,000 grant from the Gary Community Health Foundation to develop and implement a comprehensive anti-tobacco educational curriculum. The goal of the program is to reduce the exposure of tobacco products, its advertising and use among minor children grades kindergarten through six at Jefferson Elementary School. The program will operate in a 10 month cycle from September 2006 through June 2007. The Chapter will operate daily and weekly throughout the school year to develop events, growth and learning activities including introduction to alternate hobbies to negative behaviors, anti-tobacco focused community activism, and educational forums. Family involvement is strongly encouraged by providing opportunities for participation in National anti-tobacco initiatives, family centered programming and events during actual program implementation.
Our partnership with the Gary School Corporation and Jefferson Elementary School has allowed the Gary Alumni Chapter of Kappa Alpha Psi, Inc. to use the diverse professional background of our membership to positively impact the lives of the youth at Jefferson Elementary School via our intense mentoring program and anti-tobacco programming.
Guide Right is alive and well in Gary and the men of the Gary Alumni Chapter of Kappa Alpha Psi have wholeheartedly adopted each of these programs in their entirety and have unselfishly donated their time, worldly experience, and financial support in an effort to have a positive impact on the lives of these young men and future achievers.