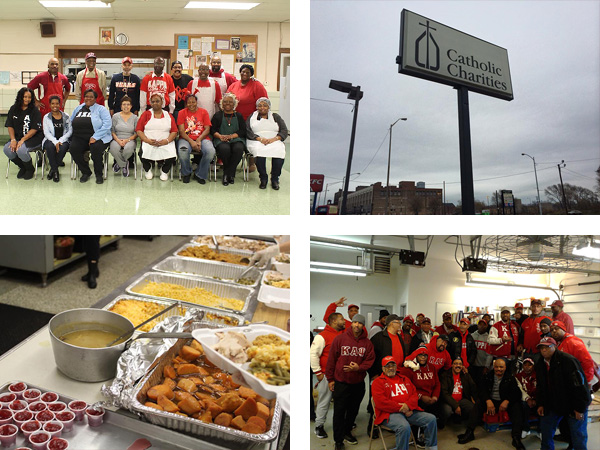 Kappa Alpha Psi Fraternity supports a variety of community service programs including Habitat for Humanity, St. Jude Research Hospital, and the United Negro College Fund. It also sponsors a number of initiatives designed to encourage scholarship and leadership skills among high school youth including the Kappa League which began in 1970 to help high school students develop their leadership skills, the Junior Kappa League for younger students, the A-MAN Program which promotes interest in science and technology, and Kappa Kamp, an outdoor educational enrichment program which allows inner city kids to attend a summer camp in Piney Woods, Mississippi and Hemlock Overlook Park in Virginia. The camp fosters team building, self-respect, and respect for others through leadership sessions, outdoor obstacle courses, and outdoor activities. This camp, which accommodates 50 young men at a time between the ages of ten to fifteen, is designed to provide guidance and encourage success.
The Kappa Alpha Psi Foundation, established in 1981, is the philanthropic division of the fraternity. It raises funds which are distributed to young people as scholarships and which support after-school programs.
Gary Alumni Chapter Community Service Programs
Annual Thanksgiving Turkey Basket Giveaway
Gary Alumni Chapter hosts its annual Turkey Basket Giveaway during the Thanksgiving Holiday season. In partnership with  Catholic Charities in Gary, Indiana, the Gary Alumni Chapter of Kappa Alpha Psi Fraternity, Inc., provides food baskets for needy families across Gary and Northwest Indiana.
Annual Gift of Warmth – Annual Kids Coat Drive
During the Christmas Holiday season the Brothers of Gary Alumni demonstrate our heartfelt giving to the less fortunate in the community that we serve with our Annual Gift of Warmth Kids Coat Drive.  Each year the brothers purchase a newly purchased coat for small to high school aged children.
Annual Kappa Christmas Soup Kitchen
During the holidays, Gary Alumni Chapter prepares and serves a meal during the Friday Soup Kitchen at SS Monica-Luke.  Brothers also volunteer to cook full turkeys and bring it to the soup kitchen for service. The members of Gary Alumni assist in preparation of all the meals and serve 100-300 members of the community.
Annual Scholarships
Gary Alumni supports the endeavors of the youth throughout Gary and Northwest Indiana with the distribution of our Annual scholarships. The chapter has given over $250,000 in scholarship to youth in our communities and pride ourselves in supporting the future success of aspiring high school students.