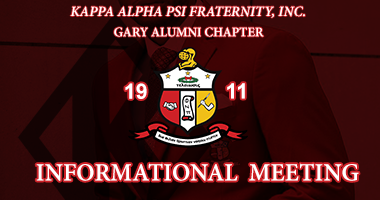 Gary Alumni Chapter: 2021 Membership Informational Meeting
Gary Alumni Chapter will host a membership informational meeting for those interested in membership in Kappa Alpha Psi fraternity on Wednesday September 1st at 6:00pm. The meeting location will be Ivy Tech College 3941 Broadway Gary, Indiana 46409.
Please encourage all interested candidates to attend. Proper Attire for this event is Business Professional: suit and tie. For more information, please contact  Gary Alumni Chapter at garykappas@gmail.com or Gerri Browning at gcbmd@comcast.net or by phone (219) 313-4867.