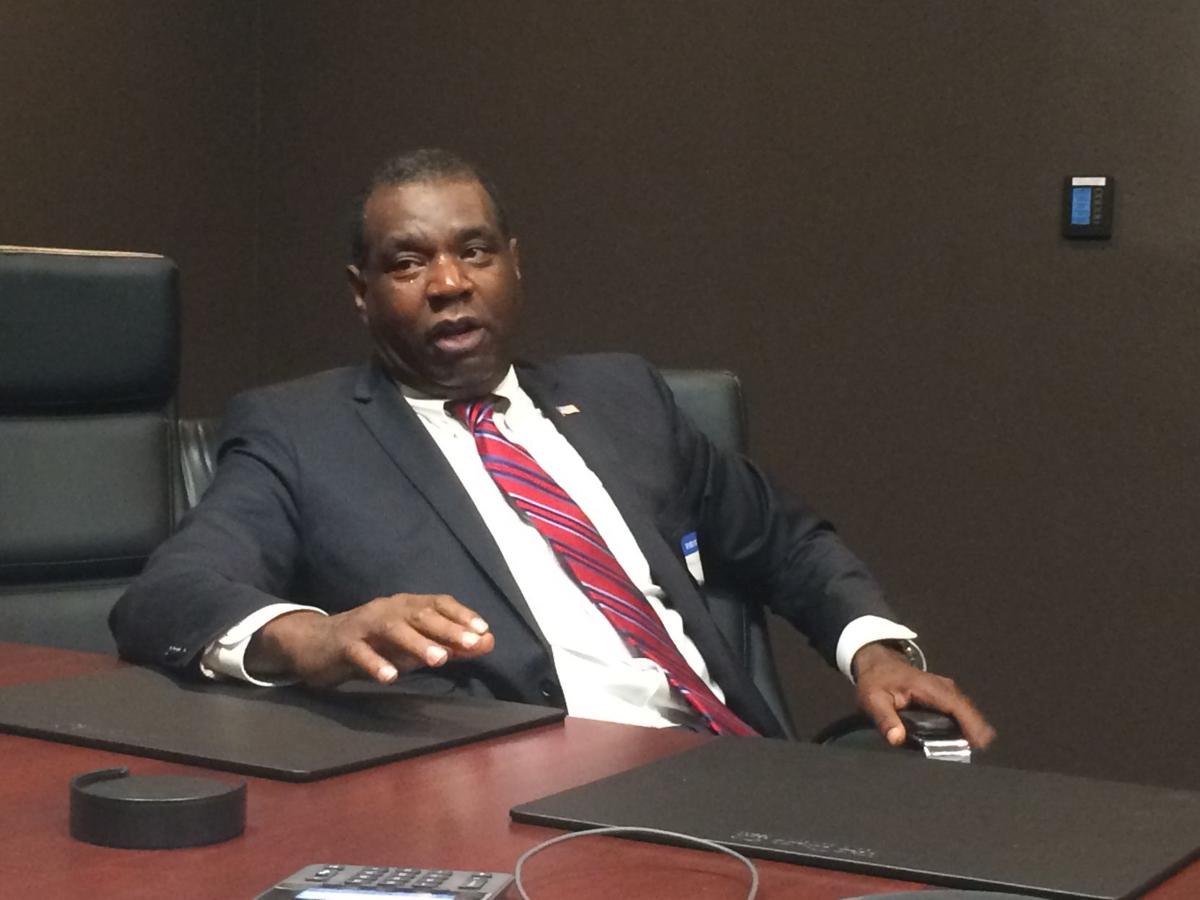 CROWN POINT — Lake County Prosecutor Bernard A. Carter (Kappa Alpha Psi, Alpha Upsilon '76) is being honored for his long career in criminal justice.
The Indiana Lawyer, an Indianapolis-based publication, chose Carter as one of 15 attorneys to receive its Distinguished Barrister award this year.
"It's a great honor," said Carter, an East Chicago native who has been a fixture in Lake County law enforcement and politics for the past four decades.
Carter received his law degree from Valparaiso University in 1984. He said he wanted to be a prosecutor from the time he became a law clerk, while still in law school, under former Lake Criminal Court Judge James Letsinger.
"I got to see all the great deputy prosecutors operate in that court, like Tom Vanes, John Burke and Mark Wolf," Carter said.
His first job after graduation was serving as deputy Lake County prosecutor. He served in the office's county court division, which handles minor criminal offenses; as a felony court prosecutor and then supervised the office's county court division.
Carter then turned in 1990 to the voters who elected him a judge of the Lake Superior Court County Division.
He served on that bench for three years. That included his overseeing the 1993 trial of 19 abortion clinic protesters who blocked the entrance of a Gary clinic.
He said he sentenced the protesters to do community service at Planned Parenthood, but later rescinded that order when he learned how committed the protesters were to stopping legalized abortion.
Later that same year, Gov. Evan Bayh appointed Carter to become Lake County Prosecutor, filling a vacancy created by the departure of Jon E. DeGuilio, who became U.S. Attorney.
Voters later elected and have since re-elected Carter as prosecutor six more times, making him one of the longest-tenured county prosecutors in the state.
He has led several initiatives as prosecutor.
Carter announced in 2016 he would stop the long-standing practice of letting accused drunken drivers plead to lesser charges to avoid the full penalties of conviction for Operating a Vehicle while Intoxicated.
Carter reacted in 2017 to complaints about abandoned police investigations of rape complaints by forming an all-female team of deputy prosecutors to step up police investigations of alleged rapes and prosecuted them in court.
Carter has long served as a board member of the Association of Indiana Prosecuting Attorneys, Inc. and serves on the executive committee of the Indiana Prosecuting Attorneys Council.
Carter also recently began to serve on the Indiana Disciplinary Commission, which investigates complaints of ethical violations by attorneys.
The Indiana lawyer also named Merrillville attorney Alfredo Estrada as one of 15 Up and Coming Lawyers.
Estrada, a Partner at Merrillville's Burke Costanza & Carberry LLP, law firm has been practicing law in Indiana since 2015.
Estrada is a former steelworker and a lifelong resident of Northwest Indiana. He earned bachelor's in political science from Purdue University Calumet and his law degree from Valparaiso University, where he graduated magna cum laude, according to the law firm's website.
Courtesy of NWITimes.com
https://www.nwitimes.com/news/local/lake/lake-prosecutor-carter-wins-distinguished-barrister-award/article_41ac6206-481e-5818-ac71-f565605871c5.html?