State Sen. Eddie Melton, D-Gary, announces that he's running for the Democratic nomination for governor Tuesday in Gary. (Carole Carlson / Post-Tribune)
State Sen. Eddie Melton returned to his boyhood stomping ground Tuesday at the Gary Public Library and Cultural Center to announce he's running for governor in the Democratic primary next year.
Surrounded by family and a packed auditorium of supporters, the first-term state senator and Gary Democrat, hopes to be the candidate who can unseat Gov. Eric Holcomb, a Republican seeking his second term.
Republican State Superintendent of Public Instruction Jennifer McCormick joined Melton, raising speculation she might be his lieutenant governor running mate. McCormick, whose office will no longer be an elected one, drew criticism from her fellow Republicans when she joined Melton during his summer listening tour to talk about education.
Melton said in an interview before the formal announcement it's too early to name a running mate.
"All options are on the table," he said.
[Most read] 9-year-old central Illinois boy charged with murder in fatal fire that killed 5 'made a terrible mistake,' but he's 'not a monster,' mom says »
"Education should not be a partisan issue," Melton said.
"We represent different parties, but share ideals. This is our opportunity to change the paradigm for not only Gary, but other school districts across the state by truly investing in school infrastructure."
Melton's announcement comes after a three-month statewide tour in which he met with residents in farm towns, suburban communities and cities. Along the way the theme has been consistent, Melton said.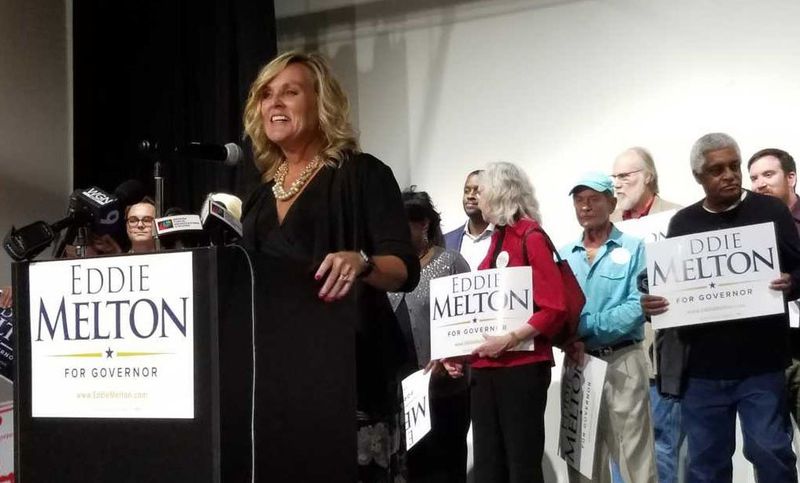 State Superintendent of Public Instruction Jennifer McCormick talks about State Sen. Eddie Melton Tuesday in Gary at his announcement event. (Carole Carlson / Post-Tribune)
"I've traveled thousands of miles and visited dozens of small towns, cities and communities," Melton said. The topics on Hoosiers' minds were health care, education and jobs, Melton said.
Education is a cornerstone in Melton's platform. He was introduced by his fourth grade art teacher who taught him at Gary's Jefferson Elementary.
"Eddie understands the importance of public schools," she said. "He stays grounded with his family, church and community.
"Because public education has been severely destroyed in Indiana, I truly believe we have a new strong voice…"
Melton said teachers are among the lowest paid in the country and the GOP-led legislature has imposed too many testing mandates and sponsored school choice options that have hurt public schools.
"We need to fully fund public schools, end high stakes testing, and stop the aggressive expansion of vouchers," he said.
A campaign video launched Tuesday called "Game Plan" shows Melton, 38, walking across a football field as he talks about his mother working 12-hour days to care for her two children. Football and church gave him a direction, he said. Football provided a game plan, something that's missing in Indiana, now, he tells viewers.
He spent much of his time at the library as a youngster, he said, while standing on the stage with a group of educators behind him holding Melton for Governor signs.
"I spent countless hours doing my homework, and learning how to use a computer there. Just across the street was the Boys and Girls Club and I spent hours there, too.
"It was important to me to make this announcement, not only in my neighborhood, but in my home town that I love," he said.
In the summer, Melton traveled across the state and said the stories he heard mirrored those from constituents in his own Senate District 3, which covers all or parts of Gary, Hobart, Lake Station, Merrillville, New Chicago and Crown Point.
"That's what inspired me to run. I want to create a vision that incorporates the people and leadership that includes concerns from every day Hoosiers. Folks believe state government is not paying attention to their concerns," Melton said.
Melton already has two opponents in the May 5 Democratic primary. He'll face Dr. Woody Myers, 65, a doctor and health care business executive, and Josh Owens, 34, a tech company CEO. Owens is the first openly gay gubernatorial candidate.
Carole Carlson is a freelance reporter for the Post-Tribune.